Dream Girl movie full review
Dream Girl full movie review, Dream Girl is a full-on comedy joyride with Ayushmann Khurana as lead actor.
Cast: Ayushmann Kurana, Nushrat Bharucha, Annu Kapoor, Vijay Raaz, Abhishek Banerjee, Nidhi Bisht, Raj Bhansali, Manjot Singh
Director: Raaj Shandilyaa
Critics review: 3/5
Elucidate facts review: 3.5/5
Read
Dream Girl movie full review story
Dream Girl is about the life of a middle-class young man, Karam, who has a peculiar talent of speaking in a girlish voice since childhood days. Since childhood, Karam used to play the role of Sita in Ramayana stage dramas. Though he did not want to, his talent made him a demanding person for the role of Sita. Karam's (Ayushmann) father Jagjeet is a single father, who owns a shop in Mathura for birth and death ceremonies.
Jagjeet (Annu Kapoor) has a couple of loans from different banks and is worried about how he will repay them. Karam is shown as a well-educated young man who is desperately searching for a job that can support his father and pull him out of the jo of playing Sita in stage shows.
Dream Girl movie title:
Karam becomes so desperate for a job that he agrees to become "Pooja" at a call centre which is like a love calling centre where people mainly men call to talk to girls/ladies just for removing loneliness in their life.
Karam does extremely well in his flirtatious character of Pooja, making callers fall in love with her voice. Pooja becomes famous and has a couple of persons falling in love with her including a constable (Vijay Raaz) who always spouts Shayaris of his not so happy married life.
Why Dream Girl movie is liked by all?
Pooja urf the dream girl has a very sweet voice that makes people fall for her. A Haryanvi teenager (Raj Bhansali), a virgin bumpkin (Abhishek Banerjee), a woman (Nidhi Bisht), a cop (Vijay Raaz)  & Annu Kapoor, the father of  Karam.
The first half
The first half of the movie is loaded with jokes that sometimes becomes too double meaning for labeling Dream Girl a family movie.
The second half
The second half of  Dream Girl movie is perhaps more interesting. This is the point where the movie in entrusted to Annu Kapoor's heavy lifting role as Karam's father Jagjeet. Jagjeet also happens to fall in love with "Pooja" and the movie takes a big turn when Karam wants to leave his job.
The Dream Girl: Ayushmann Khurana as Karam
Ayushmann Khurana gives a 10 on 10 performance in the movie Dream Girl co-written and directed by Raaj Shaandilya. Ayushmann known for is unparallel acting skills delivers a hit performance, not quite an easy one to pull off. Frustrated from his unemployed life, Karam takes up a job at a call centre where women engage and allure men into flirtatious talks.
Dream Girl movie full review in short:
The movie Dream Girl is a story of a simple middle-class young man desperately looking for a job to make his life better. From the movie Dream Girl the director wants to put light on a subject which seems quite common now-a-day i.e. Loneliness. Yes, people indulge in activities that can help them divert their attention from their loneliness and find a place/person whom they can share anything and everything.
Dream Girl movie review & ratings:
I would give a 2.5 star for the movie and an extra star for Ayushmann's effort and performance. It is definitely worth a watch if you go in with moderate expectations.
For more facts click Reviews
Follow us at facebook, twitter for all the stories and gossips
Summary
Dream Girl (September 12, 2019)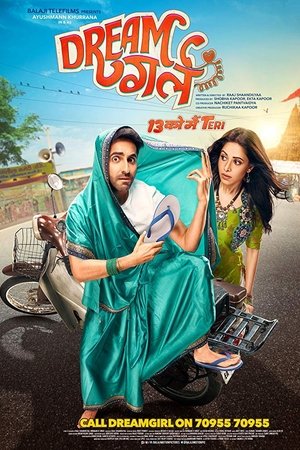 Desperate to find employment, Karam picks up a job as 'Pooja' at a call center for sex chats, keeping most people in his life in the dark about the nature of his work. How long can he keep it up before everyone including his girlfriend and father find out?

Ayushmann Khurrana
Role: Karamveer Singh / Pooja

Nushrat Bharucha
Role: Mahi Rajput
Annu Kapoor
Role: Jagjeet Singh

Manjot Singh
Role: Smiley Singh

Vijay Raaz
Role: Rajpal Kirar

Rajesh Sharma
Role: Mauji (WJI)

Nidhi Bisht
Role: Roma Gupta

Abhishek Banerjee
Role: Mahinder Rajput

Raj Bhansali
Role: Chandu "Toto" Pushp
Shashi Ranjan
Role: Hanuman
Ritesh Deshmukh
Role: special appearance in song "Dhagala Lagali"
Vedika Bhandari
Role: Pooja (Original)
Gagan Gupta
Role: Director
Jitender Gaur
Role: Toto's Dad
Neha Saraf
Role: Chandrakanta Kirar
Neela Mulherkar
Role: Dadi
Aseem Mishra
Director of Photography


Ayushmann Khurrana
Playback Singer
Khushboo Grewal
Playback Singer
Rohit Gupta
Third Assistant Director
Raaj Shaandilyaa
Screenplay
Raaj Shaandilyaa
Director

Jonita Gandhi
Playback Singer
Harmeet Singh
Original Music Composer
Mika Singh
Playback Singer

Palak Muchhal
Playback Singer
Sunder Konar
Third Assistant Director
Manoj Kirdat
First Assistant Director
Neena Malviya
Second Assistant Director
Ankit Shah
Second Assistant Director
Nakash Aziz
Playback Singer
Manmeet Singh
Original Music Composer
Jyotica Tangri
Playback Singer
Dream Girl movie full review: Ayushmann Khurana shines again
Dream Girl movie full review Dream Girl full movie review, Dream Girl is a full-on comedy joyride with Ayushmann Khurana as lead actor. Cast: Ayushmann Kur